Denmark Begins the Second Phase of Reopening
SECONDARY SCHOOL KIDS RETURN, RESTAURANTS AND SHOPS CAN OPEN
Hej from here. That's Danish for Hi. Sounds a lot like… "hi." At least to an American. Even after living in Denmark for over five and a half years with my family. Last week, I was contacted and interviewed by a prominent American news source wanting insight as to why we didn't consider returning to the States during this ever-evolving worldwide pandemic crisis. Simple answer? We live here. In Denmark. We have jobs here and our kids go to school. Here. But in reflection, it was more than that. Do you want to know? Why? Did we decide to stay? First a little timeline of what's gone down. Over here. In Denmark.
Note: While all dates and facts and any figures have been checked and confirmed, the reactions to those are all mine and mine alone. 
LISTEN HERE:
---
DENMARK LOCKED DOWN QUICKLY AND EARLY
The first confirmed case of Coronavirus on Danish soil was announced on February 27th, 2020¹. It was announced that someone who'd been on a ski holiday in Northern Italy contracted the virus over their travels for winter break. We didn't go anywhere for our mid-winter week off as we had bigger plans and pending tickets to take us further afield for our Easter break, later in April. The same day the virus was announced in our backyard was also our middle son's 17th birthday. We enjoyed our (American) German chocolate cake topped with all the little requisite toothpicked Danish flags. Because that's the way you do here in Denmark. We were celebrating our son. Little did we know then how quickly the party would end.
More people returned to Danish soil from travels abroad. More people brought home unwanted souvenirs. Quickly one case became 514 infected in under two weeks. For a small country, the ramp-up was rapid. On Wednesday, March 11th, the Danish Prime Minister – Mette Frederiksen – announced live on television that the country would lockdown.²  Schools, daycares, libraries, cultural institutions and more would shutter. If you could work from home, it was strongly recommended that you should. Not since World War II when Denmark existed under Nazi German occupation had the country seen such dramatic measures.
The next day, my husband went to work to gather up goods he'd need to safely shelter in place and be able to work from home. My daughter was driven by a Danish friend to grab her textbooks safely from her locker at school. We're glad she did. She hasn't been back on site since. Neither has her 17-year-old brother. Like many of you, we quickly set up spaces where people could work, take conference calls, and generally tackle the new world of "distance learning." Not so easy in an open plan one-floor apartment on the fourth floor.
WORKING AND LEARNING FROM HOME
Let me be clear, we are grateful that we could. And we are aware of our privilege. Our children have access to technology that affords them opportunities to connect. With teachers and friends. Even when some teachers had challenges educating via Microsoft Teams. It was a VERY quick ramp up. For us all. But I feel lucky that my husband could take calls and get his work done from here, without worry about what it meant for his employment. From our apartment. His flexibility in hot-desking between the kitchen table before the teens arose and the sudden makeshift "desk" set up in our bedroom did not go unnoticed. I gave up my regular writing space (and most of my freelance work) to make space for my people. It felt ok. It wasn't ideal. But we could do this. And we did.
Only two days after the suddenly (and shockingly) infected Italy pulled in their shutters, did Denmark follow suit, closing down quickly and decisively. Some people panicked. Maybe they "hamstered." (I dislike that word and the judgment it implies as much as when I hear "hoarding.") You've seen the photos.  And while these may not be unprecedented times, for many of us processing we haven't been through something like this before. So far, it seems, what Denmark has done, has helped. Infections rates have stayed low and people have stayed safe. Inside and at home.
---
---
HIGH LEVELS OF TRUST IN DENMARK
It helps that this small Scandinavian country has high levels of societal trust. People believe that the government is doing what it can for the benefit of the country. And for the most part, they are. There are strong social support networks for those whose businesses need people to make a profit and for those people who have suddenly lost their jobs. There is a sense that the systems in place will help take care of their own. And so far, they have.
There is also a trust between citizens that people will follow the recommendations for the good of the whole. And mostly? Danes do. As the days have grown longer and brighter and people want to go outside after the long Danish winter, we've received a few public "slap on the wrists" from the head of the Danish police or the Minister of Health and even the Queen of Denmark herself. But even when needing more than gentle reminders, the people mostly abide.
---
---
CLOSING OF DANISH BORDERS
On the same day that stay-at-home orders were announced here in Denmark, the U.S. was banning entry of all foreign nationals from EU countries (including Denmark.) Two days later on March 13th, Danish borders were locked down. Any and all travelers entering the country from noon on the 14th of March were turned away at the airport and checkpoints elsewhere. The combination of these two moves by these two countries for me was visceral. And I broke down. Cue full-body sobbing.  I have never felt so far away from family.
We soon started receiving alerts from the U.S. Embassy in Denmark;
Effective 12:00 p.m. local time on March 14 the government of Denmark will close its borders to all but Danish citizens, individuals with Danish work or residency permits, and those the Danish government determines have a critical purpose of travel (eg, someone commissioned to provide goods or services in Denmark).  The measures will be in effect until April 13.  There are no travel restrictions for U.S. citizens who want to depart Denmark.  The border closures will impact a significant number of train, air, and ferry routes.  It will also include a complete stop of all cruise ship traffic to Denmark until April 13. "
EMOTIONAL COMPLICATION OF HAVING A SON TRAVELING ABROAD
In the middle of this timeline of daily updated new pandemic policies, was the fact that our eldest son was following it all from Southeast Asia. Part of his gap year travels that he worked for, planned for, and was still trying to enjoy. It felt like giant gates were hammering down across the globe and we worried which one he would get stuck behind. Finally, with more and more countries requiring two-week quarantines or lockouts for travelers, he cut his trip short and returned home. To Denmark.
It was such a sobering experience picking him up at the Copenhagen airport. Only six weeks earlier, as we were sending him off on a day when security staff decided to strike and the airport piled up with people waiting to get screened for HOURS backing up flights. In contrast, his return was to a ghost town of an arrivals hall. Normally chock full of families and friends waving Danish (or Swedish) flags to welcome people home, the Lufthavn that day was empty and echoed only the safe distancing recommendations overhead. There were signs and broadcast announcements that told us not to give any "kys og kram," (hugs and kisses) to those recently arrived. We couldn't not hug him. This was March 18th. He was home. And with him, a slowing of my middle of the night panics.
US STATE DEPARTMENT ISSUES LEVEL 4 DO NOT TRAVEL ADVISORY
The day after his return to Denmark, we received news that the U.S. State Department had elevated travel advisories to Level 4. The highest warning. The American government was recommending no one travel anywhere in the world. There was a lot of red on that map. Suddenly, the entire planet was a hotspot. U.S. citizens were strongly recommended and encouraged to return to American soil as soon as possible. We watched as the designated ports of entry became quickly clogged as travelers returning home had to comply with chaotic re-entry requirements. Images from Chicago's O'Hare Airport, where people waited up to seven hours in spaces that afforded no social distancing felt foreign and very far away. It was such a stark contrast to what we had experienced here in Copenhagen.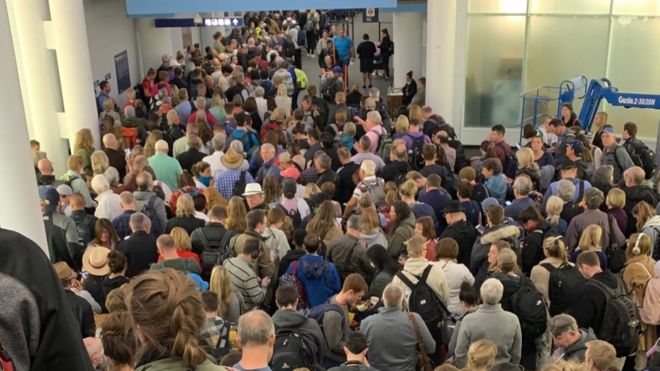 TWO WEEKS SELF-ISOLATION AND HOME QUARANTINE
While we watched the growing confusion over official communications to contain quickly escalating cases in the States, here, we spent the following two weeks adhering to the Danish government's recommendations that we self-quarantine with our son after returning home from abroad. There was little possibility to isolate him in our abode, hence the emotionally easy decision to hug him hard upon his return. We ordered groceries for delivery when we could get a space in the online queue and had generous friends drop off essentials to cover us and assist in between. We waved to them and bellowed our gratitude from the fourth floor as we used gloves to get our goods at the front door. It felt like forever and four seconds at the same time. But we did it.
DENMARK'S POLICIES WORKED TO STAY UNDER THE CURVE
As Denmark enhanced and further defined policies that included limiting people from gathering in groups of more than 10 to delineating safe distancing in grocery stores – it has all helped to keep infection rates from exploding here. So much so, that the country was able to make big strides in opening again after only a month of lockdown. Phase I included allowing the littlest Danes back to schools and daycares so that workers could get back to work, even if still from their homes. Here in Denmark, the majority of families have both parents working so it made sense to make a safe space for the kids first.
---
---
But only the littlest in Denmark were allowed to return. At first, for Phase I. Only children under age ten. In case you haven't been following along or don't know my story, these were not my kids. I have a trio of teens. We heard from friends whose littles returned, that the process was slow, but seemed to be sufficient to keep kids and teachers and their families safe. But at my daughter's International School, the younger classes were spread out into the secondary school rooms. How – we wondered as we watched, would she be able to return this school year with the requirements on spacing?
---
---
For our family, not much had changed. Except for my husband, who returned to his place of work. At first, it was a new thing to make me more than nervous. But with only 25% returning to the physical office and often even then, taking team calls from separate conference rooms, it has been ok. He has only recently returned to managing the Metro and was biking the 10 kilometers each morning to the office and back. As for me? I was grateful for the ability to get outdoors, but not sure about making contact and maintaining distance, which is easier said than done on city sidewalks that are only so wide. Step off those to keep away from other people and suddenly you're smack in the faster than you'd think traffic of a Copenhagen city bicycle commute.
ENTER PHASE II REOPENING OF DENMARK
Last Thursday, the evening before our first of a few Danish holidays this season, the Prime Minister returned to the airwaves to do what they call a "doorstep." An announcement outside the regular press conference settings where she annunciated the next steps. For the second phase of opening Denmark. Suddenly, these announcements afforded something that positively (?) impacted our family. Our daughter would be allowed to return to school starting on May 18th, with the rest of grades 6-10. Also allowed to resume business were restaurants, cafés, and some pubs – which would be able to reopen and welcome in guests if operating under another round of Health Ministry guidelines. Libraries could lend books at limited levels. Special shout outs to faith centers, zoos, and activity clubs who could all resume congregating if keeping the distance and complying with new criteria.
ONLY ONE METER DISTANCE AND TRACKING THE INFECTED
Like many places around the world, the original recommendations in Denmark were to maintain a 2-meter distance to help curb the disease. I will admit that was easier said than done living here in the city. So when Søren Brostrøm, the Danish Minister of Health, recently announced that we were cool with only 1-meter spacing, it felt like a relief and a terror at the same time. Mind you, this is the same minister who said that single Danes could still have sex mid-corona-crisis, as sex is healthy and necessary and needed. Leave it to the Danes. But apparently we're ok. Closer than we think. And here in Denmark, we have never been required or even recommended to wear masks when out. But new systems are apparently in place to test, track, and contain any new infections.
WHAT NOW DANISH COW?
And here we are, the middle of May. Two months in. After Danish lockdown.  The borders remain closed until at least June 1st. Do I look back and wonder if I should have returned to the United States? No. Not once. For starters, we don't have a place to safely return. Trying to manage a job from a nine-hour time difference would be difficult, to say the least. And as it's played out (with two months hindsight) we've been more than grateful for our Danish "lockdown lite." So far, it's been smart. Fairly concise and mostly sane. And I truly appreciate – pretty darn safe.
You can't come to Copenhagen, she said. And I can't travel to the States. We had (really good priced tickets) and grand plans for this summer to return and celebrate some big round birthdays, as the Danes like to say. See family and friends and stock up on peanut butter and all the tastes that we miss. You think I jest. But it may have to wait. Stay tuned. We'll see. Right now, it doesn't seem feasible. We want to stay safe. And keep our extended family from being unnecessarily exposed.
DET BLIVER GODT IGEN | IT WILL BE GOOD AGAIN
And here we are today. Like life, this pandemic and response is ever-evolving. As are many around the world, people here are talking about, debating, and discussing what "new normals" might look like. For our lives. In this world. But, when you chose to live your life across borders, you quickly see, that what is normal for some isn't normal for others. So instead of trying to assimilate or force some semblance of new normal, I have been finding hope and grounding in the Danish phrase, "det bliver godt igen." It will be good again. How that good happens, feels more up to me. Sending love from here. Stay safe. And sane. Take a tiny bit of inspiration from the Danes. Supporting everyone benefits the whole. It will be good again. Cheers from here.